"Hey, are you coming to your party?"
I blinked. "Wait — doesn't it start at 1:00?"
My supervisor laughed over the phone, "No, it started seven minutes ago."
"Uhh… Yeah… I'll be right over. I'm such an idiot!"
I slid into my shoes, a jaunty pair of pumps with 4-inch heels, and clacked across campus to my party.
My farewell party.
I'm leaving my job for a new one. Tomorrow is my official last day.
I know… one more transition. One more change in my already upheaved life. One more stressor, one more uncertainty, one more schedule disruption.
I have worked at this college for nine years now, nine of the most important and wonderful and difficult and expansive years of my life. The life changes I've been through in that almost-decade have taken me from DINK to married parent and now to single parent. We sold our first home and bought our current one, which is now on the market. I've had four kids, gotten two out of diapers and into school, and had twins. Twins! I've been dropped to my knees by life and carried away by love. I've cried and laughed and cared and mourned.
I am not the same Courtenay that first climbed up that hilltop nine years ago. Fundamentally, yes, I am still me. I'll always be that because I strive to be authentic to myself. But circumstances have shaped me. They have stripped off my bark, exposed new growth to air, turned me under a lathe, sanded, and polished me. I am not a finished product, yet, but who is?
The most difficult aspect of this transition is leaving a network of massively supportive people for uncharted territory. There are people that I will miss like I'm missing a limb. Many I will see around town as our children overlap activities and as I come and go socially, but others will end up catching up on me through social media. One never intends to lose contact, but some things just slip away.
I'm not change-averse. I know that my new job is a really great opportunity with a stable and growing company. I am going to be paid to write, of all things, and am excited to give that a try. I'm looking forward to working on a team of creative and vibrant people. I can't wait to learn a new job and a new company. There are so many good things that await me, I can just feel it. My confidence is coming back and I could feel it in each step I took yesterday afternoon.
I pushed open the door to the campus library and was blasted by the arctic air of the air conditioner. A small group of friends was gathered around some lemonade and brownies, chatting and smiling. It was a simple gathering, not much fuss, which is perfect for me. I gave many hugs, received many more, and will keep these last warm embraces close to me like a talisman.
I laughed. I joked. I told stories about a place that raised me from woman to mother. I thanked friends and teased colleagues and wore gratitude like expensive perfume.
I know that I will always have a home on the Hilltop. I know that a part of my heart is there, another brick on the ped mall or another lilac in bloom. It is a good place with good people. Just not me anymore.
But it's OK. It's my party.
Hey, there! I'm a-submitting this one to Yeah Write, the most awesome-est place online for writers who blog and bloggers who write. Check it out, yo!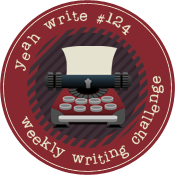 Check the Menu (Search Soup)
Daily Specials (Recent Posts)
Ingredients (Categories)