My fingertips tingled and every heartbeat send a river of panic running through my legs.
I checked my watch again.  12:20.  My appointment was at 12:30, but I couldn't sit in my office any longer.  I don't know why I thought sitting in the waiting room would be better, but there I was.  Early.
And terrified.
Deep breath in, sigh out.  12:27.
I fidgeted with my phone, turning off the ringer.  No interruptions.  Phone in my purse, phone out of my purse.  Phone in my pocket, phone back to my purse.
12:32.
Why hadn't they called me back yet?
12:34.  I am called back.  I willed myself off the chair and shuffled my barely responsive feet after the nurse, grateful that I had decided not to wear heels.
12:36.  More waiting, this time in the exam room.  I studied a complex diagram of the human ear and throat.  They didn't even have a picture showing the lymph node in my neck — the one that had been biopsied ten days earlier.  The node was still swollen, a yellowish bruise bloomed along the underside of my right jawbone.  The doctor had taken six samples that day, guided by ultrasound.  I had been jabbed in the neck eight times, though, because the local anesthetic wore off during the third sample, so he re-administered the fiery lidocaine.  It wore off during the final sample, too, so I felt the needle searching, felt it poking through the growth on my node, felt it scraping and sucking, felt that pain all the way from my ear to my collarbone.
12:38 I heard the doctor in the hall.  In an attempt to turn invisible, I barely breathed, but he entered another patient's room.  The diagram of the human ear blurred slightly as I found air again.
Phone in my pocket, phone out of my pocket.  I lifted the hair off the back of my sweaty neck.
12:41 I heard the doctor in the hall again.  Time stopped as the door to my exam room swung open and the doctor entered.  He sat on a wheeled stool and scooted it closer to me as he studied the sheets of paper in his hands.  I looked at the back of the sheets and tried to decipher the words through the paper.  It didn't work, so I sat motionless and held my breath.
"OK.  Let's go over these results!"
He turned my exam chair slightly and moved his stool so that we could both see the papers.  The letters danced wildly in front of my eyes, forming conga lines of abbreviations, marching up and down and all over the white sheets.
"First of all, they found no evidence of malignancy."
Boom!  The world blazed with color and the terror what had intertwined itself around my heart began to release its grip.  My lungs filled and emptied, free from the restraint of my fear.
I murmured, "Oh, thank goodness."
The rest of the appointment was a blink.  Follow-up in nine months.
I can handle that, because I don't have cancer.
This is what I did yesterday after work. I am still relieved today. I'm also linking this up to the challenge grid over at yeah write, where we give away birthday presents for our birthday. Cool ones — a book and a $50.00 gift certificate to lululemon. And, of course, the best writing on the web — that's totally free and available to anyone who wants to read. Check it out ASAP!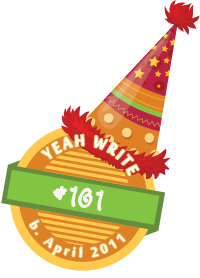 Check the Menu (Search Soup)
Daily Specials (Recent Posts)
Ingredients (Categories)